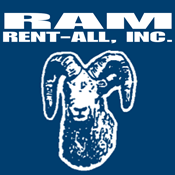 Links
---


RENTAL POLICIES



RENTAL PERIOD:

Minimum-2 hours, 4 hours, depending on equipment
Day Rate-24 hours or 8 hours on the meter
Week Rate-7 consecutive days or 40 hours on the meter
Month Rate-4 consecutive weeks or 160 hours on the meter.
Overtime -see metered items below.
We charge for all time out.

IDENTIFICATION:

A valid driver's license and phone number are required for ALL rentals. A current utility bill or major credit card is required as a second form of identification. Proof of insurance is required for vehicles towing trailers.

PAYMENT:

Required at time rental item is picked up. If driver's license does not show a North Carolina address, payment by credit card may be required.
If approved, we accept local checks only.

DEPOSIT:

Rental customers may be required to leave a deposit on items rented( excluding open account customers). Deposits vary per item. Deposit refunded on return of rental item.

METERED ITEMS:

Rates for rental items equipped with hour meters are based on 8 hours per day, 40 hours per week, and 160 hours per month. Additional usage will be charged accordingly.

DAMAGE WAIVER:

A percentage of the rental rate will automatically be charged for damage waiver unless declined on rental contract at time of pick-up. If declined, customer must provide proof of insurance coverage on larger equipment. Rental customers are responsible for any damage caused from misuse, abuse or loss of equipment.

AVAILABILITY/RESERVATIONS:

Please call for item availability. The sooner you call, the easier it is to lock in the time you need it. Credit card payment is required on all reservations,(excluding open account customers). (No refunds on cancellations)

PRICING:

Prices are subject to change. Please call for price quotes. All rental charges are for time out, whether used or not.

DELIVERY AND PICK-UP:

Delivery and pickup are available at reasonable rates. Please call for the charge to your specific location. All rental items should be gathered and dropped off in the same location it was delivered so it is convenient for pickup (unless other arrangements were made). Extra charges can apply if it takes a driver a long time to locate equipment. (Our driver will record time of arrival and time of departure). If you prefer, (on certain rental items) you may pickup and return to our location.

FUEL/TIRES/CLEANING:

Equipment is sent out full of fuel; larger equipment is charged for by the hour of use. We ask that all equipment be returned full, or a charge will be added to your contract. The customer is responsible for ALL tire damage or flats. If we are called for on-site repair, we will charge our shop rate.Equipment is sent out clean and is to be returned clean. A cleaning fee will be added if equipment is returned dirty.

RESPONSIBILITY:

Responsibility for rental items remains with the customer from delivery to return. All items should be secured and protected from the weather. Additional charges for replacements are made for missing or damaged items. Note: These policies do not supersede what is stipulated in the signed rental contract and photos do not necessarily reflect the equipment for rent.
---
RAM RENT-ALL INC. Goldsboro
306 Fedelon Trail
Goldsboro, NC 27530
Phone: 919-735-3320
Fax: 919-735-3327

BUSINESS HOURS:
MONDAY-FRIDAY.....7:30AM TO 5:00PM
SATURDAY.....7:30AM TO 12:30PM
---
RAM RENT-ALL INC.
306 Fedelon Trail
Goldsboro, NC 27530
Tel: 919-735-3320
Fax: 919-735-3327

RAM RENT-ALL INC.


2722 Graves Drive

Goldsboro, NC 27534

Tel: 919-778-7500

Fax: 919-778-9990

RAM RENT-ALL INC.


2900 US 70 East

Clayton, NC 27520

Tel: 919-359-2211

Fax: 919-359-2213
Web Designed by:B.R. Web Design
---